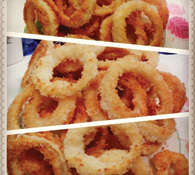 Thanks to Mama Mel Jaranilla for the onions she gave us, I was inspired to look for a yummy onion rings recipe; as requested by my husband. Because of the satisfaction it has given to our family's tummy and taste buds, I want to also share our experience.
Having this recipe is like having a pro made your onion rings!
Ingredients:
1 whole White Onions (Large)
2 cups All Purpose Flour
1 cup Fresh Milk (I used Nestle Fresh Milk -Green)
1 large Egg
1 tsp Iodized Salt
Breadcrumbs (I usually use the one in orange packaging – the one used for tempura)
Vegetable Oil for frying
Extra salt for seasoning
Procedure:
Cut the onions in slices. Make sure to cut them in circles, then set aside.

Prepare 3 bowls. In one bowl, mix the flour and salt. In the next bowl, whisk the milk and egg together. And in the 3rd bowl, put in the breadcrumbs.

Dip and cover the onions one by one to each bowl of mixture, to this arrangement:

Flour Mixture
Milk and Egg Mixture
Then again at Flour Mixture
and Milk Egg Mixture
Breadcrumbs (slightly tap them to let it stick to the rings)

While preparing the rings, also prepare the oil in a pan and heat it. Make sure the oil is hot before you put in the onion rings.
When the onion rings are slightly brown/golden brown, take them out already. Then put them in plate with tissue paper to remove the excess oil from it.
Then season with salt
This is also best with a dip. The simplest dip you can have is mayo with garlic powder, mayo and ketchup or even just mayo.
Sounds yummy??? Try it now and give me a feedback on your experience. Hehehe… ENJOY!!!!!